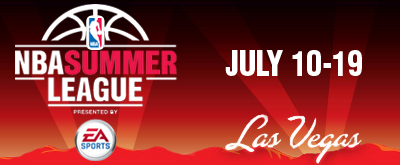 Without Jerryd Bayless, the Trail Blazers put up a valiant effort, but threw the game away in the closing seconds en route to a
74-73
loss to the NBDL All-Stars. Portland blew the game open in the 2nd quarter, leading by as many as 20 points, but tired legs caught up to the Blazers in the 2nd half and the lead was down to 5 going into the 4th. Portland gave up the lead early on in the quarter but found themselves in a position to seal the deal. The Blazers had the ball at halfcourt, up by 2 and with the ball, but an errant pass by Thomas Gardner was stolen and a desperation three was nailed as time expired by the NBDL All-Stars. The loss in the Summer League finale dropped the Trail Blazers record to 1-4. Note: This game was radio only, so I am only going off of the box score and Brian Wheeler's play by play.
Jerryd Bayless:
Due to a left wrist sprain, Jerryd Bayless was held out of tonight's action.
Dante Cunningham:
With Bayless out of the lineup, the scoring load was shouldered, as suspected, by Dante who led the way with 16 points on 7-14 shooting. No one will ever complain about 50% shooting, but Dante never really got into a rhythm. It was make, miss, make, miss all game long and nearly all the shots came from the perimeter. Usually if something is clicking, then don't shy away from it, which is the jump shot in his case, but this is Summer League, time to work on weaknesses. It would have been an even bigger surprise to see him take his game to the next level by either showing off some post moves or putting the ball on the floor and getting to the rim.
After a disappointing 2 rebound effort last night vs. San Antonio, Dante bounced back strong by pulling down 7 boards. Given all of his activity around the hoop, its amazing he managed to not commit a single foul, that is the epitome of controlled chaos. Really the only negative tonight was the 3 missed free throws, but it seemed like a fluke since he had only missed 2 free throws going into the final game.
Mr. Cunningham was easily the biggest surprise of Summer League and our MVP during this week in Las Vegas. His performance definitely opened the eyes of Blazer fans and should put him in the mix for backup front court minutes. I said it after his first game of the summer and I still stand by that statement, that if we did not sign Millsap, which we didn't, I would feel very comfortable with Dante as our backup power forward getting 15 minutes a night. Overall Grade: B+
Jeff Pendergraph:
Another "as advertised" game for Pendergraph tonight with 10 points, 4-9 shooting, 5 boards, and 3 blocked shots. Like Cunningham, I was hoping Jeff would take a more assertive role on offense without Bayless playing, but 9 shots is about what he averaged through the five games. Even though the offense might have not taken off with Bayless out, his defense seems to get better each night. 5 blocks over the last two games has really shown his progression in timing and anticipation on the defensive end.
I compared him to Tyson Chandler the first time I saw him this summer and that comparison still stands. He probably never will be one to be a dominate low post scorer or even a player who the offense will run through, but his field goal percentage is sky high, 55.3% for the summer, and is a superb garbage man around the rim, using his strong hands to grab everything in sight. One thing that sets him apart from other centers is his shooting. He showed off a face up jumper I didn't know was in his offensive repertoire and shot 85.7% from the foul line through his five games in Las Vegas.
Backup minutes at the center spot in Portland will be impossible to come by, barring injury, but Jeff would be a nice insurance policy if an injury did occur or a potential replacement to Przybilla down the road in a couple of years. If for nothing else, he'll be a great, big body for Greg to practice against every day throughout the season. Overall Grade: B